Article
From the Editor: Sarasota Magazine's 2013 Guide to Giving
Pam Daniel on the gift of self.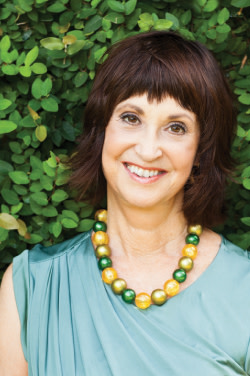 We love contests, and so, we've learned, do most of you. We're always posing a burning question, and whether it's serious or silly, we usually get a passionate response. What's the best cocktail in town? Who are the best bosses? Which Instagram photo captures the spirit of a Sarasota summer? And then there was that most bitterly contested competition of all, which sparked a fury of accusations of vote-stuffing, fraud and yes, even bribery: Sarasota's Cutest Pet.
A big part of our mission is connecting you with what's best about Sarasota, and our contests are one way we do that. But I can't remember a contest that inspired us as much as this issue's "Volunteer of the Year." We asked all the nonprofits in our Giving Register to nominate their most outstanding volunteer. You can read about the winner, 81-year-old retired nurse Harriet Pallotto, whose days at Senior Friendship Center begin before 7 a.m. and are a whirlwind of cheery multitasking, here. But the more I pored over the nominations, the more I wanted to tell you about some of the many others whose energy, generosity and compassion humbled us judges. Here are just a few.
Nurse Pallotto was not the oldest contestant; that honor goes to tiny, 97-year-old Florence Katz, a mainstay of Jewish Family & Children Service's Senior Outreach Program, which offers transportation, counseling, lunch and entertainment to homebound seniors. "Too many seniors are isolated and depressed," Katz declares. "If I can provide an example of staying connected, so can they." We love the way the nominator described Katz, "deftly" and "expertly" setting up the tables, handing out morning cookies and coffee and serving lunch, and always "smartly dressed and accessorized, complete with high heels."
South Dakota attorney David Morrill retired to Sarasota and began volunteering at Legal Aid of Manasota, where he soon realized that clients in foreclosure cases desperately needed help. He has spent thousands of hours to save the homes of people with nowhere else to turn, "giving them the confidence to move forward with their lives," the nominator wrote. "His incredible dedication has earned the respect of judges, other attorneys and even the banks he argues against."
Another retired attorney, Bill Johnson, spends five full days a week at Girls Incorporated of Sarasota County. "Mr. Bill," as the girls call him, serves as volunteer operations manager, maintaining the grounds, pool, yard and building. He's mentored six girls, enlisted other male volunteers, heads up the tutoring programs and chaperones field trips. When the Tampa Bay Lightning hailed him as a "Community Hero" and awarded him $50,000, he promptly handed the check over to Girls Inc. to fund capital improvements, establish an emergency fund—"and surprise staff with bonuses!"
Not every volunteer is a retired senior. Catherine Browne came to Project 180, which helps reintegrate former prisoners into the community, after she was ordered to perform community service. Rather than resenting her punishment, Catherine embraced it. Her "drive" and "skill" helped make their inaugural fund raiser a tremendous success, the nominator wrote. "She is an exemplar of what a motivated offender can do when trusted and given responsibility."
And then there's Maureen Flaherty, a foster mom for the Humane Society of Manatee County. Her countless acts of devotion to neglected and abused animals can be summarized in a single image: Picture Maureen feeding Eden, the emaciated mother of seven puppies, whose misshapen esophagus was preventing her from getting nourishment, in a special "eating chair" she had a friend construct; the chair is angled upwards, allowing food to pass through Eden's esophagus and enter her stomach. Want to hear more? Click here to see all the nominations..
To read more about the amazing volunteers nominated for the 2013 Volunteer of the Year, have a look at the submission entries here. 
You can also browse our Giving Register to find organizations that interest you and contact them directly, or find the right fit by contacting Volunteer Community Connections, (941) 953-5965, connectingvolunteers.org, or visiting "You'd be Perfect for This" at gulfcoastcf.org.
Read our complete 2013-2014 Giving Register right here.