Article
A Splash of Wine
Fall fashion: Autumn's hottest hue--wine--can be found in apparel and home furnishings at many Sarasota shops.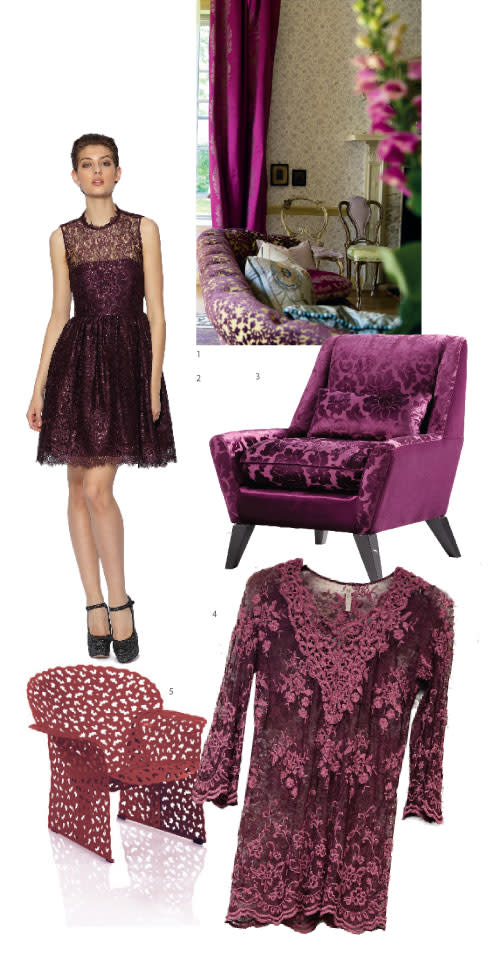 1 The Royal Collection by Designer's Guild includes Clarence (on sofa), inspired by the lacy ferns in the Savill Garden at Windsor, and damask (drapery fabric) from one of Queen Victoria's tablecloths. Order at The Wallpaper Store, 7368 S. Tamiami Trail, Sarasota, (941) 924-3640.
2 Saks is ahead of the trend with lace fashions from the likes of Burberry, Gucci, and Alice + Olivia in shades from Bordeaux to merlot and burgundy (Alice + Olivia dress $495). Saks Fifth Avenue, 100 Southgate Mall, (941) 364-5300.
3 Lace-like damasks and flocked fabrics in tones from raspberry to black grape are dominating new upholstered furniture like this chair from Cyan Design ($1,172.50). Order through Envie Home Decor, 1411 First St., Sarasota, (941) 366-7027.
4 The Maiden Fair tunic by XCVI in deep berry wine Florentine embroidered mesh gives the trend a young, relaxed edge for casual sportswear ($128). Foxy Lady, 481 John Ringling Blvd, St. Armands Circle, (941) 388-5239; 14 S. Boulevard of Presidents; 209 Beach Road, Siesta Key, (941) 349-6644.
5 Designer Richard Schultz creates the illusion of lace with his outdoor Topiary Bench ($1,517) in a new deep wine shade, also available as an armchair through Home Resource, 741 Central Ave., Sarasota, (941) 366-6690.